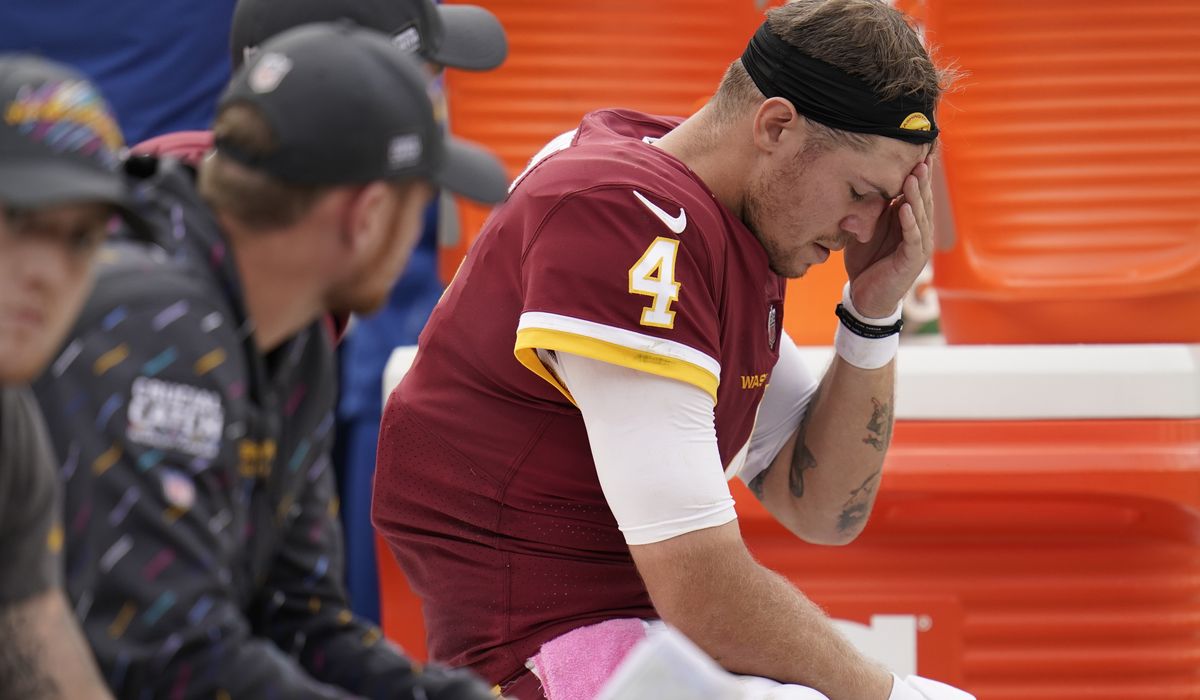 LANDOVER — Taylor Heinicke's frustration was apparent. Recalling his two interceptions after Sunday's 33-22 loss to the New Orleans Saints, the Washington quarterback took the blame for the turnovers.
They were ugly — and costly.
"Those two decisions killed us," Heinicke said.
Heinicke may have been slightly overexaggerating, as Washington's defense was the primary reason that the team fell below .500 (2-3) on the season. But the plays were another instance in which Heinicke struggled to perform against a top-rated defense.
Two weeks ago, against the Bills — No. 1 in Football Outsiders' defensive DVOA rankings, which measure efficiency — Heinicke threw two interceptions and completed 58% of his passes. Against the Saints, second in the same metric, Heinicke again threw two picks and had an even worse completion percentage. He went 20 of 41 for 248 yards, good for 48%.
Heinicke's passer rating of 47.6 was his lowest since taking over the job for an injured Ryan Fitzpatrick. He's been much better against teams like the Atlanta Falcons and New York Giants, two teams without winning records.
"I thought Taylor had his moments," Washington coach Ron Rivera said. "I thought he did. He made some plays, gave us some opportunities a couple of times. I think he tried to force it and that's hard because he's trying to make plays."
Heinicke did look as if he was forcing both throws that led to turnovers. On the first interception, the quarterback tried to hit Curtis Samuel on a double move, but the wide receiver was still covered — leading cornerback Paulsen Adebo to pick off the pass. No turnover is ideal, but this one was particularly hurtful as Washington was inside the red zone with the score tied at 13 in the second quarter.
Heinicke, however, seemed much more upset regarding his second interception. He called the throw an "awful decision" — and he was right. Backed up to the 2-yard line, Heinicke attempted to haul a pass over cornerback P.J. Williams to wideout DeAndre Carter. But the throw was short, giving Williams an easy takeaway.
This time, the turnover resulted directly in points for the Saints. New Orleans needed just four plays and 26 yards to score a touchdown, a 12-yard catch from receiver Marquez Callaway.
Callaway's score, too, made it a two-score deficit for Washington in the fourth quarter.
"I put the defense in a bad spot," Heinicke said.
Sunday's performance wasn't all bad for Heinicke or the offense. Despite Heinicke failing to throw a touchdown, he still managed to throw for 248 yards and marched Washington down the field. Rivera said Heinicke didn't lack for confidence, a comment that stood out given the coach chastised his defense for lacking it.
The offense, as a whole, put up more yards (373) than New Orleans (369). Running back Antonio Gibson was effective in the red zone, rushing for two touchdowns. And Washington held the ball for more than 36 minutes of game time, dominating time of possession.
Still, there are areas to clean up. Heinicke's accuracy will need to improve. He targeted star wide receiver Terry McLaurin a game-high 11 times, though McLaurin caught only four passes. Converting in the red zone will be key, given Dustin Hopkins had three field goals.
Washington has injury concerns, as well.
Samuel, who missed the first three games with a groin injury, exited in the first half because of the same issue and did not return.
Starting right tackle Sam Cosmi, too, was ruled out midgame with an ankle injury. Washington was already missing All-Pro guard Brandon Scherff (knee) on its offensive line and wide receivers Dyami Brown (knee) and Cam Sims (hamstring).
In general, Heinicke said he was pleased with his performance, outside the turnovers. After bouncing around earlier in his career, the 28-year-old said he's starting to feel comfortable as a starter, with Sunday being his fourth straight start.
"There's always room to improve," he said.