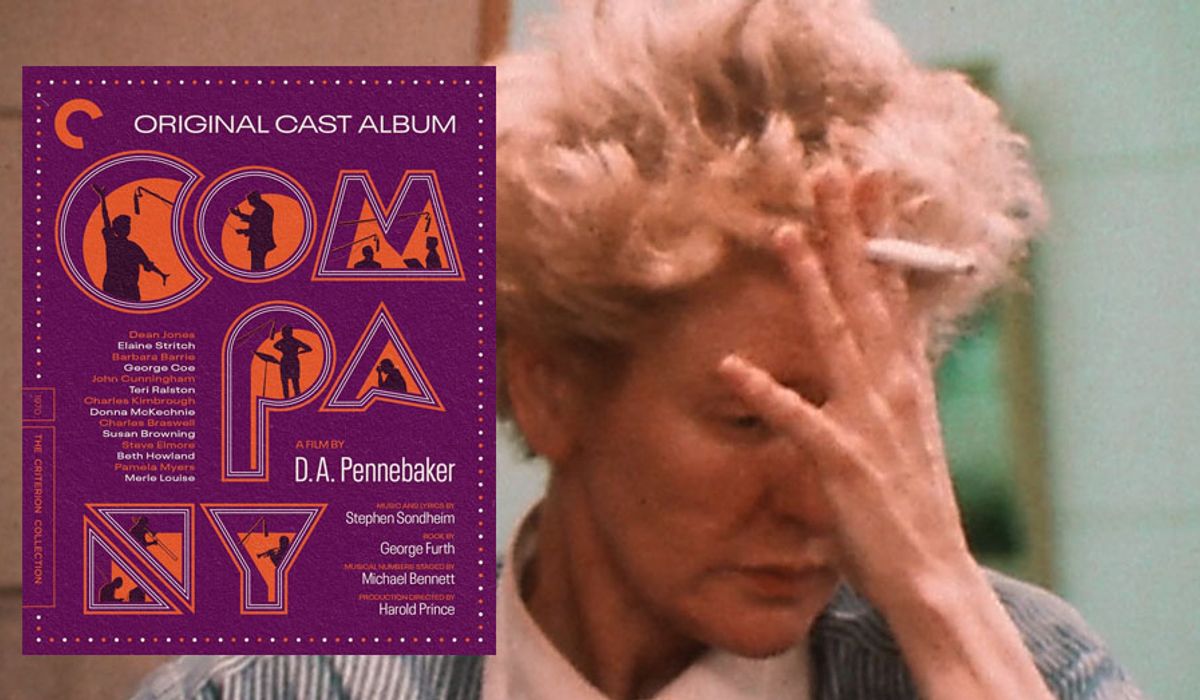 "Company," composer Steven Sondheim and director Harold Prince's Tony Award-winning Broadway musical comedy about a serial bachelor, got an award-winning, behind-the-scenes look back in 1970, thanks to documentarian D.A. Pennebaker.
Now remastered in 4K and available in the Blu-ray format, Original Cast Album: Company (Criterion, rated G, 1.33:1 aspect ratio, 92 minutes, $29.96) does not cover the actual show's original production nor captures a theatrical performance.
Rather, this potential television show pilot took viewers into a Manhattan recording studio for a marathon 14-hour session to present the cast's recording of the songs complete with a full orchestra for the eventual album release.
In addition to appearances and interviews with Mr. Sondheim, Mr. Prince and playwright George Furth, the famed cast, including Dean Jones, Barbara Berrie, Beth Howland and Elaine Stritch, are on hand to belt out the memorable songs including "Company," "You Could Drive a Person Crazy" (take 10, no less), "Barcelona," "Not Getting Married Today," "Another Hundred People," "The Little Things You Do Together," and "Side by Side by Side."
Viewers will certainly enjoy watching the intimate creative process, especially as "too hip for the room" record producer Thomas Z. Shepard tries to cajole Mr. Sondheim to tweak his proven score or watching an exhausted and raw Stritch struggle as Mr. Shepard and Mr. Sondheim push her to get the best version of "The Ladies Who Lunch."
However, listening to Mr. Jones ("well, maybe there's one more in me") sing "Being Alive" is a nearly religious experience for the musical theater fan as he transcends the song with an emotional punch to the gut that also causes the cast to break into spontaneous applause.
Criterion debuts the documentary on Blu-ray with help from a new 4K restoration presented in the original TV aspect ratio (4:3) and culled mainly from the 16mm original source material that, despite extensive cleanup, still struggles with grain, dirt and focus issues.
The visuals still look pretty clean throughout, and viewers can at least be thankful that the show is now preserved forever in a digital format.
Best extras: Here's a case where the sum of all of the bonus parts manages to outshine the feature presentation.
Criterion starts with a pair of mandatory commentary tracks — one from 2001 with an insightful Pennebaker, Stritch and Prince and a brand new solo track with Mr. Sondheim who offers a great introspection on his career and appreciation for "Company" and its cast.
Next, viewers get a 30-minute socially distanced conversation between Mr. Sondheim and orchestrator Jonathan Tunick, moderated by theater critic Frank Rich.
The venerable pair offer background on meeting each other, collaboration between composer and orchestrator, the actual shoot of the recording "Company" and memories of Jones and Stritch.
Finally, Criterion goes above the call of duty by including a mockumentary on the featured presentation taken from Bill Hader and Fred Armisen's television series "Documentary Now."
The painfully hilarious "Original Cast Album: Co-Op" does a fantastic job of satire featuring star record producer Benedict Juniper (Taran Killam), moody lyricist Simon Sawyer (John Mulaney) and cast members including Patty (Paula Pell) as the frantic doppelganger version of Elaine Stritch singing the faux "I Gotta Go," (she had to go to the eye doctor).
The greatest laugh moment by far is Kenny (Alex Brightman) singing "Holiday Party: I Did a Little Cocaine Tonight," a parody of "I'm Not Getting Married Today."
The only issue is that I wished it was longer than 23 minutes.
Criterion even captured a 33-minute, Zoom-style discussion with cast and crew about the "Documentary Now" episode and its source of mockery that includes words director Alex Buono, composer Eli Bolin, Mr. Mulaney, Richard Kind (Larry) and Miss Pell.
Extras conclude with commentary outtakes with Stritch, Prince and Pennebaker, and an 18-minute conversation between Mr. Tunick and author Ted Chapin.
Criterion also adds to the packaging a fold-out, full-color, pamphlet-style insert featuring credits and an essay on the production by critic Mark Harris.